Hi Rod, thought i'd add some comments, thanks....


I got my katana a few days ago and have been testing it ever since, it truly is a wonderful sword. I have handled a few mass produced blades and always found them to be too heavy and oversized in handle and blade length. When my katana arrived I was amazed at how light and well balanced it felt. The handle and blade are the perfect length for me, enabling me to draw and cut tatami smoothly and quickly. I chose the folded steel with no bo-hi and the folds can be nicely seen when you look closely, plus they add a nice traditional aspect to the katana. Everything is top quality, the wood, tsuba, cotton ito and sageo, even the mekugi pins. The RGW on the tang is also a nice touch! Let's not forget how good looking the katana is, I can't help but glance at it every time I walk past! I am so glad I found RGW katanas and feel bad for people who have paid much more for an inferior sword. This truly is the best deal around and I will be telling all the members at my martial arts class who want a great katana at an unbelievable price! Thanks Rod.
David (DavidWebb1989@hotmail.co.uk)

I would just like to say how delighted I am to take delivery of my Katana ordered from Rod. It was just over three months in the making and Rod kept me informed of progress throughout. I purchased a Katana from the higher priced range, it's beautiful, the artwork on the sword is simply stunning, what I've waited for all my life, I am now 62! I practised my first cuts today, on a tatami roll (4 matts), taking four cuts it was like a hot knife through butter balance of the blade, perfect. I am 5th Dan in Martial Arts and 4th Dan Konoru, anyone wanting a sword at a reasonable price, don't look any further than Rod, he will help you in every way. Delighted Sensai Maggs.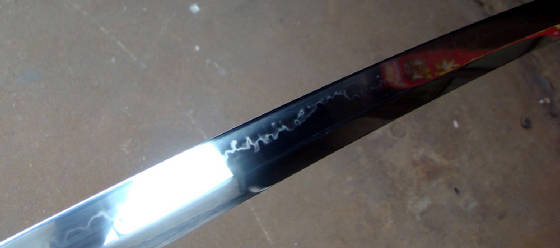 EXTENDED FREE CREDIT NOW AVAILABLE PLEASE SEE POLICIES PAGE FOR FULL DETAILS
I AM PLEASED TO ANNOUNCE THE LAUNCH OF THE NEW RGW MARKETPLACE A DEDICATED PAGE ON MY WEBSITE WHERE YOU CAN FIND ANYTHING RELATED FOR SALE IN USED OR PRE OWNED CONDITION.PLEASE CLICK ON THE PAGE LINK FOR MORE INFO THANK YOU.